This is a pictures of plug and ignition coil with 75,000 miles on it that misfiring normally. No large deposits, not discolored. Reddish or green deposits indicate burning coolant. Black, sooty deposits indicate burning oil.Also check for hairline cracks in the white porcelain insulator.
A common reason for misfires, hesitation, and stumble is a corroded ignition coil and/or plug wire.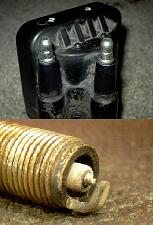 This example is from a 3.1 / 3.4 liter engine. Burned / corroded coil tower or corroded plug wire
can cause misfires under hard acceleration, or when cruising at a steady speed (45-65 mph)
then accelerating to pass.
Also will misfire at idle on wet, damp mornings. This also causes a check engine light code P0300.
More Auto Repair Help
Helpful Information